El Puente de Encuentros Fellowship Program
2019-2020
Vision
El Puente de Encuentros will be a conduit of change for behavioral health services in New Mexico 
Mission
El Puente de Encuentros will bring cultural awareness to New Mexico's behavioral health needs and will take action to meet those needs.
Goals
To create a two semester mentoring program to support undergraduate and graduate students interested in becoming clinicians in the behavioral health field. 
To assess the trends and needs in the field by carrying out research and advocating for policies that support training culturally diverse behavioral health clinicians to meet the needs of a changing population.
Advocating for the implementation of culturally relevant programs in addition to providing advice and presentations to advisors, decision makers, and heads of school systems.
The following are the areas of interest related to this program:
Psychology (BA, PhD, PsyD)
Social Work (BSW, MSW, LMSW, LCSW, DSW)
Counseling (LPCC, LMFT)
Psychiatry (MD)
Facts to consider for students in these fields:
Social Work: Job growth expected to increase 14.25% -Between 2012 and 2022
Largest growth potential in NM to be expected in healthcare professions by 21.5%; and in child, family, and school Social Workers by 21.2%
The effects of demographics on these fields:
The Latino/Hispanic population is projected to increase from 55 million in 2014 to 119 million in 2060 (Colby and Ortman); in NM, it makes up 48% of the population—and growing- with nearly 20% being foreign-born—and growing
Native Americans make up over 10% of NM population with a growing 600,000+ residing in urban areas
Asians are the fastest-growing population in New Mexico, seeing a 46 percent increase in population from 2000 to 2010… the largest groups here are from Vietnam, China and India
African Americans make up nearly 3% of NM population with continued influx of transplants from southern states
Racial & Ethnic Minorities vs Caucasians in Behavioral Health Services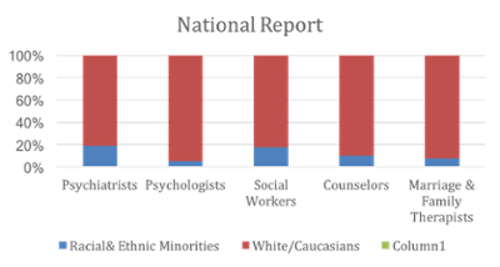 Bridging the solution
EPDE Fellowship Program
Guide students considering a profession in the field of mental/behavioral health to explore areas of professional development through direct mentoring
A two-semester program

Will consist of two educational seminars per month: The first is to include a lecture from an expert in the field and the second will include student discussion and reflection on the content of the first seminar.
Will expose students to professionals and experts who are current clinicians and counselors
Will provide students with culturally relevant reading material
Will facilitate application of theoretical frameworks in direct practice
Need more information? Contact Us: