Community Research Education and Academic Retention Initiative (CREAR)
A Pathway to Graduate School and Community Professional Service
Coordinator: Jorge A. Garcia, mexicatl@unm.edu
Summary
In support of the University of New Mexico's academic mission to teaching, research and perform community service,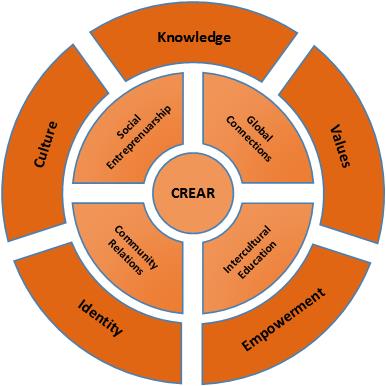 El Centro de la Raza have developed the Community Research Education and Academic Retention
Initiative (CREAR) aimed at promoting academic excellence through community based learning and research activities. This initiative will foster on-campus and off-campus activities by increasing student scholarship, community engagement, interdepartmental collaboration and faculty support.   
The Partnership will oversee projects in the areas of social sustainability, women's rights, cultural affirmation, immigration, social and economic entrepreneurship, community-based participatory mapping, transfer science, technology and information, economic and organizational development, and policy development.
Vision
CREAR will serve as catalyst that would integrate research, education, and community-professional service by acting as a bridge between academia, government agencies, businesses, and local communities to develop professional opportunities for students
Mission
Our mission is to support graduate and undergraduate research by expanding a community-based learning model that is based on strategic alliances between local community organizations, academic programs, government agencies, and community members at large to foster ties to local communities, while providing the best educational experience to our students and a pathway to graduate school. 
Pillars of CREAR:
Innovation and decision making to gain valuable skills for professional development
Research and Development to study local social, cultural, economic, and political systems that affect our local environments
Community Engagement to re-engage with the communities that our students come from
Social entrepreneurship to ensure that our students are willing and able to take risk and take their education to new eights
Critical thinking that will allow us to prepare a new cadre of civic and professional leaders who will be in the position to confront present and future challenges
Mentoring with identity that is based on understanding the unique challenges that our student confront as they progress in their studies
Student Benefits:
Connect academics to cultural diversity, equity, social justice and social entrepreneurship
Community learning, civic engagement, and network building
Professional field experience and leadership development
Scholarships and funding opportunities for students
Community based research and scholarly projects
Academic, professional and faculty mentorship
Our commitment to academic excellence and community service
Transfer knowledge, science, technology, and information to support the social, cultural, economic, and political development of local communities
Help map out the internal and external forces impacting local communities
Provide organizational and professional support to our communities and students
Create spaces for cultural competency and cultural relevancy for student success
Develop innovative community based curricula, research and development that will address key areas of development in New Mexico local communities
Identify students from the natural sciences, social sciences, humanities, and engineering to foster interdisciplinary collaboration and education